Merino wool: with Adriafil you are sure to get the best quality
Did you know that merino wools are not all the same?
The term Merino identifies the breed of the sheep, not the quality of the fiber. It might even be poor! You notice the difference with time and use.
This difference is called quality, a word in which many others are enclosed: care of production processes, controllability of origins, selection of the best raw material.
If making a handmade garment gives you emotions (and satisfaction), if you like the feeling of comfort on the skin, if you invest time and money in a new knitting project but don't want to have any nasty surprises, you can't do without these requirements and you must rely on those who, with experience and passion, have been selecting fibers for over a century.
Think about it: only a wool that gives you these guarantees deserves to end up on your needles and on your skin… or on your little ones' skin!
With us you are safe, because our main goal is your satisfaction.
Adriafil always means a guarantee of quality

Adriafil experts select only the best wools coming from young animals, therefore more elastic, softer and more resistant, taking them from the shearing of the belly, which is the area of ​​the animal most protected from atmospheric agents and wear.
The hair of a merino sheep is thinner than the hair of a "common" sheep. The finer a fiber, the more the resulting yarn will gain in softness and silkiness.
Adriafil merino wool varieties offer a fiber whose fineness has a very low value (less than 19.5 microns). Higher micronages indicate common and coarse wools.
This is how you recognize quality merino wool: Adriafil merino wool does not pinch on the skin!
When Adriafil team selects merino wool, it not only takes into account the fineness of the fiber but also the color, making sure that they are above all free of "impurities", such as black hairs and similar: because the more the fiber is naturally white, the more the colors in dyeing phase will be vivid.
We carefully choose farms equipped with state-of-the-art technology, in which careful protocols are followed for which the animal is respected and in which all the regulations required by law in terms of environment and health are followed.
Particular care in the twisting phase also characterizes the special twist of Adriafil merino wools, which increases the performance of the fiber both in terms of functionality and appearance.
Adriafil extrafine merino collection: top selection
For 40 years Adriafil has been chosing to offer all knitting lovers a range of yarns in PURE MERINO EXTRAFINE famous all over the world.
Adriafil extrafine merino wool is the only one that offers an ultra-tested fiber with an exclusive micronage: with the Genziana, Primula and Bucaneve yarns we reach a fineness of 19.28 microns, well below the average of 19.5: it means exceptional yarns soft!
Why is merino wool one of the fibers we prefer to make our knitting yarns?
Merino (or merinos) wool is so called because it is the fiber obtained from shearing the fleece of merino sheep, a variety of sheep whose wool is particularly sought after due to its fineness.
To withstand the cold in winter, but also to regulate body temperature all year round, the coat of merino sheep is made up of a specific type of particularly fine and curled hair. The wavy structure of these hairs causes the fibers to create air chambers between them that serve to trap body heat, reducing its dispersion and heat exchange.
That's it: nature is the best example in many fields, including clothing!
Adriafil merino wool is the best choice for your handmade garments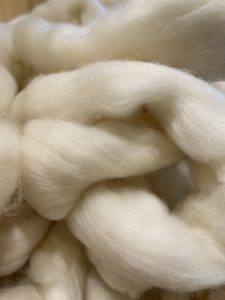 Merino wool is rich in extraordinary properties, essential for the success of your handmade garments. Adriafil does not accept compromises and can give you these guarantees on the fiber it chooses:
– it's natural! Adriafil merino wool is pure, that is, it does not come from regeneration processes but directly from the shearing of younger animals
– thermoregulator: it acts as a thermal insulator: suitable for protecting our body in all seasons, never too hot and never too cold, it maintains the ideal temperature for any climate; merino wool is also worn in summer!
– hygroscopic and breathable: it absorbs natural body transpiration; avoids the onset of skin irritation and dermatitis, protects against bad odors – antibacterial and hygienic: lanolin avoids accumulation of dust and dirt between the fibers, also inhibiting the presence of mites
– fireproof
– biodegradable
– extraordinarily soft: does not pinch the skin!
– baby merino wool: it has ideal characteristics even for the little ones!
– elastic and ductile: resistant, does not wrinkle, softly enhances the lines of the body
#trustAdriafil

Do you have a wool shop? Find out why these yarns cannot be missing in your proposal:
Click and write us on whatsapp or Fill out the form to find out the advantages for your shop
Are you a knitter? Click and write us on whatsapp or Fill out the form to find the nearest Adriafil shop